Six Steps to a Great Web Site
---

---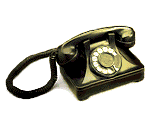 ---
Step 1: Call Wayward Fluffy Publications or Style and Substance. Or send us e-mail. We can discuss your web page or site design needs, and arrange for an estimate based on review of your company's information. The estimate charge can be applied toward the cost of your web site.


---
Step 2: Each client is special. Each client is unique. We know that you trust us to construct the perfect web site design to best display your company's information. We value your trust.

---
Step 3: We thoroughly research your site design by carefully reviewing the material you send to us. We don't shovel your information into a template -- we want your information to be clear, concise, and persuasive, in a unique, complementary site design.


---
Step 4: We offer our clients the convenience of site installation: with access to your web space, we can deliver your web site to its new home and save you and your employees set-up time.


---
Step 5: We are quite the busy bee when it comes to reviewing your site. We use several browsers (not just the current honey of the lot) and thoroughly check the links, graphic displays, and more. We want your site to be the best it can be.


---
Step 6: This is *your* step, although we don't mind a drop of the bubbly now and again, thanks. Celebrate the availability of your information on the Internet! (And remember to ease that cork *gently* out of the bottle.)

---

LINKS TO SOME OF OUR CUSTOMERS:

General information about our web site design services or maintenance is available upon request. Web site estimate charges can be applied toward the cost of construction, design, or maintenance of your web site.
[WEB DESIGN AND CONTENT MANAGEMENT] [MULTIMEDIA] [ARTIST/DESIGNER BIO]
[THE DAILY APOCRYPHA] [JUST ANY IDIOT WEB DESIGN] [HOME]
---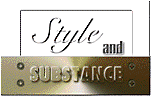 Style and Substance
© 1995-8 Wayward Fluffy Publications
Wayward Fluffy Publications, 38 Sandy Ridge Road,
Stoughton, MA 02072
Voice: (781) 344-4989 || style@fluffy.com

http://www.fluffy.com/stylensub.html
Style and Substance is a trademark of Wayward Fluffy Publications.
Last revised: October 21, 2003.